Honouring our Gods through work in this realm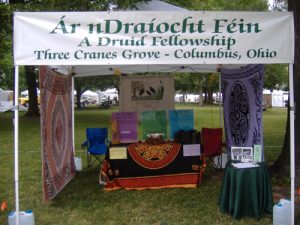 ComFest provides a very basic set of principles:ComFest is known in Central Ohio as the largest "Party With a Purpose" out there. It is a three-day music festival that also supports local (and generally progressive) organizations. Since 2005, Three Cranes Grove, ADF, has had a presence at ComFest.
We think that people ought to work for the collective good of all people rather than for personal gain. We support cooperation and collective activity rather than competition and individual profit.The basic necessities of life are a right and not a privilege. People have the collective right to control the conditions of their lives.

People should strive to conduct their lives in harmony with the environment.

We recognize that there are primary attitudes which divide and oppress people. These attitudes are usually shown by prejudice against people on the basis of age, class, ability, income, race, sex, and sexual preference/ orientation.

We seek to eliminate these attitudes.
Many people come to our booth each year, telling us that they're glad we're there, or that we bring a new, interesting layer to the already diverse nature of ComFest. We are always happy and proud to be there for the community.
One aspect, the volunteer aspect, is particularly important to ComFest's survival and ability to continue to provide this level of community and openness, which is so much needed in this world.
Over the three days of ComFest, our Grove seeks to donate at least twenty-four hours of community service, either through working security or doing cleanup and recycling. Early on, we also used to donate massive hours to the beer tent. Here is a chart of hour volunteer donations:
| | | | | | | |
| --- | --- | --- | --- | --- | --- | --- |
| 2005 | 2006 | 2007 | 2008 | 2009 | 2010 | 2011 |
| 24 hours | 28 hours | 94 hours | 24 hours | 65 hours | 82 hours | ???? |
Also, our Grove does public ritual throughout the weekend at ComFest, and in 2008 set a new record for number of rituals in a three-day period with fourteen rituals, including our Summer Solstice rite and the Pride service we participated in.