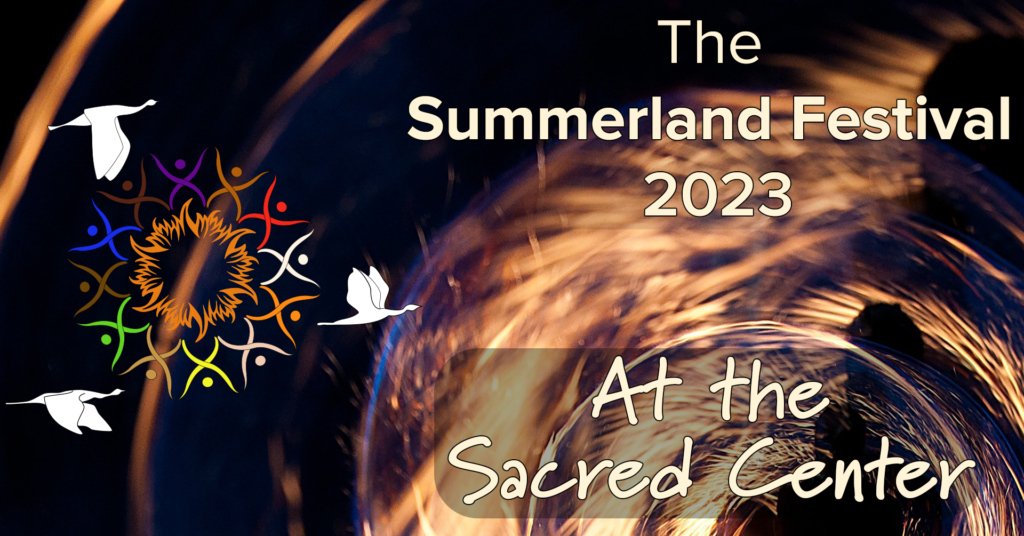 Summerland 2023: registration now open!
It's finally time! We hope that you'll join us for the Summerland Festival 2023: At the Sacred Center, August 17-20, 2023! We're very excited to return to Camp Clifton for another year of ritual, learning, and community in the woods near the Little Miami River.
We've updated all the information we can think of, so look at our various subpages for answers to your questions:
Still have a question we can answer? Drop us a line at summerland@threecranes.org.
All out of questions? Register now!
Vendor applications now open
We know that one of the great joys of a pagan festival is getting to peruse all the great wares from our community's talented vendors. In order to ensure a good mix of quality vendors, all vendors must be pre-approved. Got something to sell? See our Vendor Application page for details.
About the Summerland Festival
The Summerland Festival is a long-standing pan-pagan festival held every August at Camp Clifton, near Yellow Springs, Ohio. The folk are welcome to enjoy a variety of workshops, children's activities, bardic circle, rituals, and evening activities, with the festival culminating with the main ritual on Saturday, followed by a potluck dinner. Every year, there is music, laughter, and fellowship in a comfortable, serene camp. The festival has played host to ordinations, initiations, and celebrations for many years, and we look forward to continuing this proud tradition as we return to Camp Clifton and reconnect with old friends there.
A Culture of Consent
Three Cranes Grove, ADF works within a culture of consent at all of our events. All attendees will be required to agree to our Code of Conduct during the registration process. There are also additional expectations for presenters, ritualists, and organizers within the policy. Additionally, a workshop on Consent Culture will be offered during the festival. All are encouraged to attend.