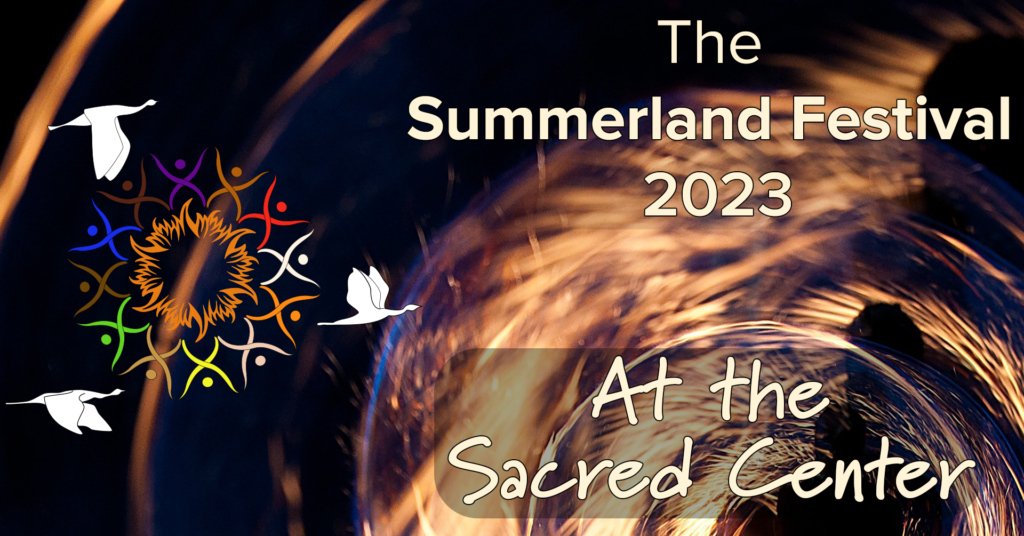 Schedule
The Summerland Festival 2023 will be held in-person at 4-H Camp Clifton near Yellow Springs, Ohio.
The camp will open at 12 noon on Thursday, August 17th, and events are scheduled from Thursday late afternoon through Sunday morning; see our schedule page for full details. All attendees must be off-site by 11:30am on Sunday, August 21st, without exception.
Registration fees
All Summerland Festival attendees must be registered.
Please note that cabin reservations and meal plans are separate and not required (see below for details).
Online pre-registration (closes Friday, August 11th)
Adult (16+) full-weekend registration: $75
Adult (16+) single-day registration: $20
Child (15 and younger) registration: free
On-site registration
Adult (16+) full-weekend registration: $85
Adult (16+) single-day registration: $25
Child (15 and younger) registration: free
Please note that on-site reservations cannot include meal plan. Cabin space may be available, but is not guaranteed. (Also note that wireless connectivity is very sketchy at Camp Clifton — you may need to go stand out in the middle of the field across from the dining hall to make an online payment. But we'll always take cash!)
Meal Plans
Meal plans are only available for full-weekend registration (no day passes), and cannot be purchased on-site. You are also not required to purchase a meal plan; feel free to cook for yourself or to avail yourself of local restaurants and stores.
Meal plans include 8 meals, Thursday midday through Sunday morning. Rates:
Adults (16+): $75
Kids (8-15): $37.50
Kids (0-7): $0
Everyone, regardless of whether they are eating on the meal plan, is invited to participate in the Saturday evening potluck.
More details are available at our Meal Plan/Food page.
Lodging
You have a number of different possible sleeping arrangements, in addition to area hotels and motels. Details are available at our Lodging page, but here are the raw numbers:
Tent camping: free
Full-cabin rental: $100
Bunkhouse space: $20
Camper-trailer parking (no services): $20
Scholarships and Work Barter
We recognize that everyone has different financial means; please see our information on scholarships/work barters.
By the same token, if you have the means to contribute to our scholarship fund — which is entirely funded by the generosity of festival attendees — we invite you to add a contribution to your registration.