Three Cranes Grove, ADF, is a fully chartered Grove of ADF, working mostly in a Continental (Gaulish) Celtic pantheon. We are polytheistic, hold public rituals, and seek to better our world and ourselves.
Three Cranes Grove is now celebrating ten full years of serving the Gods and the community in central Ohio. Many years of laughter, workshops, public rituals, and community service and involvement have helped us build and maintain some amazing relationships! They can only grow stronger!
What is ADF?
ADF, or Ár nDraíocht Féin: A Druid Fellowship (pronounciation), is a Neo-Pagan organization that worships the Old Gods, and adapts Their ways to our times. Visit www.adf.org for more info.
What does it mean to be an ADF Grove?
We hold rituals open to the public on each High Day, and meet at least once more per month. Dates can be found on the calendar page. We also do community service projects, at least one per quarter, though we do our best to do more than that. We are basically a local congregation of ADF.
Where does your name come from?
Three Cranes Grove, ADF, is named for the three cranes who were honoured in Gaul for their connection to the God Esus. The mythology surrounding these cranes is lost, but their importance is still seen on inscriptions.
What more can you tell me?
Well, the Grove structure consists of regular members and three officers: the Senior Druid, the Treasurer, and the Secretary. The officer positions are elected by the Grove, with Treasurer and Secretary elected annually, and the Senior Druid elected once every two years. Our current Senior Druid is Shawneen.
The Grove also has an ADF Senior Priest, Rev. Michael J Dangler, and an ADF Ordained Priest, Rev. Jan Avende, whose credentials can be verified on the ADF site. Both are also licensed to perform any services clergy can preform in the state of Ohio, including marriages.
Several of our members have written short biographies that might give you a better feel for the Grove itself.
Also, the Grove has a poem, "Clutiā Trion Garanonon", that chronicles our history in poetic form. Please do feel free to read through it to get a better feel for our Grove.
About our Rituals: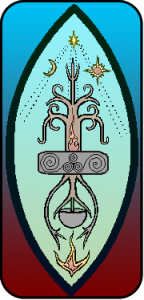 Our rites are open and inclusive. We do not close our circles and you are free to come and go as you please during the rite. We ask only that you be respectfully quiet and attentive while attending our rituals.
As a guest at an ADF rite, you are welcome to perform a Praise Offering to the Deity of the Occasion, or to any Deity, Ancestor or Nature Spirit you wish to honour. This can be a song, poem, or a simple statement of thanks or faith, accompanied by a simple physical offering such as a few coins, a cup of ale, or flowers. Please see our Grove Bard prior to the beginning of the rite if you wish to make a Praise Offering and they will instruct you at the appropriate place in the rite to make your offering.
We believe all should have the privilege of attending rituals and speaking to their Gods. Our Rites are public for this reason. The rituals are designed for large numbers of people, but we seek to keep contact with the Powers personal.
We hope to enter into a relationship with the Powers in all our rituals. The nature of the relationship is up to the individual worshiper, but we seek to provide the means of each person attending to enter or strengthen that relationship in their own way.
We ask for blessings from the Powers during our rituals, and those blessings come in several forms, from a specific need to an abstract wish coming true. Blessings can be specific to a person or they can affect the community or the world.